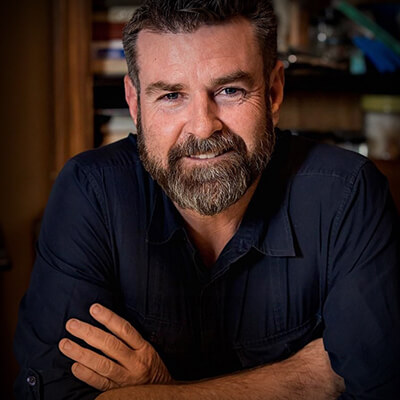 Chief Creative Officer
Nathan Mayfield
Nathan Mayfield is the Chief Creative Officer and co-founder of Hoodlum, an Emmy® and BAFTA Award winning Entertainment Company.
Nathan oversees the strategic and creative direction of Hoodlum with his focus on Australian and international business. Pioneering innovative new ways to tell stories since 1999, Mayfield has been the creative force behind Hoodlum's multiplatform, television series and feature film work. He has worked alongside his co-founder Tracey Robertson to expand the business across the globe and across many different mediums.
In 2009, Hoodlum won a Primetime Emmy® for their work on Lost and an International Emmy® for their work on Primeval in 2010. Hoodlum also won two BATFA Awards for Spooks in 2008.
Mayfield produced the ten part series SLIDE for Foxtel, the six-part comedy series The Strange Calls for ABC2 and the six-part crime thriller Secrets & Lies for Network Ten. The series was then remade in the USA for ABC starring Juliette Lewis.
In 2017, Nathan produced the feature film AUSTRALIA DAY for Foxtel, released theatrically through Icon Film Distribution and launched a VR documentary, INSIDE MANUS, for SBS. Hoodlum is currently in production on HARROW, a 10 part series with ABC Australia and ABC Studios International and is in preparation on TIDELANDS, a 10 part series for Netflix, their first original series for the territory.
Mayfield continues to find compelling stories for Hoodlum to produce and strives to lead the way in new forms of delivery.
Mayfield is a member of the Screen Producers Association and a member of the International Academy of Television Arts & Sciences and the Australian Academy of Cinema and Television Arts (AACTA). He was recently recognised as an outstanding alumni and made an Adjunct Professor of Creative Industries at the Queensland University of Technology.