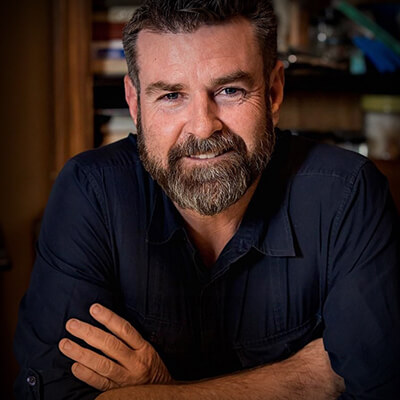 Co-Founder & Chief Creative Officer
Nathan Mayfield
Nathan Mayfield is the Chief Creative Officer and co-founder of Hoodlum, an Emmy® and BAFTA Award winning Entertainment Company. Nathan oversees the strategic and creative direction of Hoodlum with his focus on Australian and international business. Pioneering innovative new ways to tell stories since 1999, Mayfield has been the creative force behind Hoodlum's multiplatform, television series and feature film work.
Hoodlum is currently working with ABC Australia and Margot Robbie's LuckyChap Entertainment to produce SHAKESPEARE NOW, a ten-part series updating the work of Shakespeare using all-female writers and directors. Also announced is feature film NO FRIEND BUT THE MOUNTAIN based on the multi award-winning book from Kurdish-Iranian journalist Behrouz Boochani who chronicled his harrowing experiences in the tome No Friend But The Mountains: Writing from Manus Prison.
Hoodlum has focused over the last two years on expanding its global slate across scripted and unscripted television and feature film with productions currently in development with partners including ABC Signature, Fox, Peacock, Netflix, CBS International and A&E amongst others.
Hoodlum is currently facilitating the second series of ABC Signature / Amazon series THE WILDS and is also in pre-production for the ABC cutting edge series ALL MY FRIENDS ARE RACIST which will both go into production in April 2021.
Past projects include of Seasons 1 and 2 of SECRETS AND LIES, a 10-part series for ABC Network starring Juliette Lewis, based on Hoodlum's Australian 6-part series and TIDELANDS, an 8-part series for Netflix.
Mayfield also produced the feature film AUSTRALIA DAY for Foxtel, released theatrically through Icon Film Distribution and launched a VR documentary, INSIDE MANUS, for SBS.
The second season of FIVE BEDROOMS, an 8-part series for Network Ten, distributed by NBCUniversal Global Distribution will go to screens later in 2021. Hoodlum's third season of HARROW, a 10-part series with ABC Australia and ABC Studios International is currently on air in Australia. HARROW was ABCSI's first scripted production outside of the US and both seasons are currently streaming on Hulu in the US. FIVE BEDROOMS is currently airing on BBC One in the UK and on NBC's streaming platform, Peacock.
In 2009, Hoodlum won a Primetime Emmy® for their work on Lost and an International Emmy® for their work on Primeval in 2010. Hoodlum also won two BAFTA Awards for Spooks in 2008.
Mayfield is a member of the Screen Producers Association and a member of the International Academy of Television Arts & Sciences and the Australian Academy of Cinema and Television Arts (AACTA). He was recognised as an outstanding alumnus and made an Adjunct Professor of Creative Industries at the Queensland University of Technology.